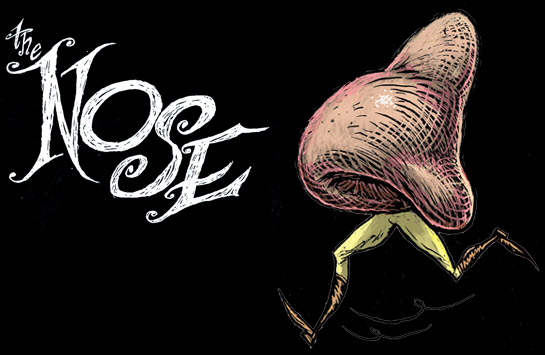 The Nose is a hilarious tale of a man who misplaces his nose and embarks upon an absurd journey to reclaim the errant snout, and return it to its rightful place.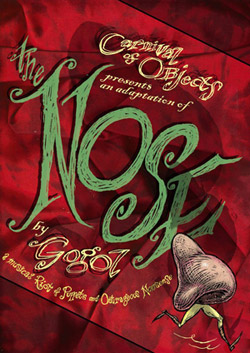 Surreal, dislocated realities are created as life-sized puppets interact with hand puppets, cartoons and animation, amidst an eerie soundscape and atmospheric live music.
A nose that gads about town dressed as a General, a Punch and Judy booth that sprouts legs and moves about the stage, a handbag that morphs into a dog, a doctor with a penchant for amputation and pint-sized, piranha policemen are just some of the nightmarish imaginings in the bizarre and macabre world of this darkly humorous adaptation of Gogol's The Nose.
Adaptation of The Nose by Nikolai Gogol
The Nose was originally written as a satirical short story by Nikolai Gogol between 1835 and 1836. It tells the tale of an official in St. Petersburg whose nose absconds from his face and creates a life of its own. Of course (as Gogol's narrator noted), the story contains much that is highly implausible. Yet, many of the ideas running through this work seem to be very apt today, and this has inspired the themes of the adaptation. What with our society's obsessions with money, celebrity and status, the modern world could be seen to be as much filled with what Gogol described as 'the most outrageous nonsense' as the one that the author inhabited almost two hundred years ago.
Performers:
Nicky Baylis
Neil Gibbs
Caine Stanton
Melanie Wood
Music:
Cabinet of Living Cinema with special guest Jack Maguire
Jack Maguire: Violin, Tibetan banjo
Kieron Maguire: Guitalele, flamenco guitar
Rob Parkinson: Hammer dulcimer, bass, foley
Animation: Charlotte Caetano (also with artwork by Mark Stafford)
2D puppets: Mark Stafford
Puppets, puppet costumes, story adaptation: Nicky Baylis
Props, puppet costumes, dog puppet: Melanie Wood
Lighting design: Dave White – Stealth Engineering
The Nose costume: Holly Tomkins – HT Modelmakers
Reviews for The Nose
'Carnival of Objects explores the absurdity of celebrity… A satirical look at society's whims, its love of gossip, money and personality, The Nose is a riot of expression…The stage is constantly in flux, four puppeteers manipulating more than 20 puppets. We have waist-high puppets, tiny puppets, 2D puppets, puppet booth puppets, flying puppets and animation. And the nose himself? He is the largest of all, his fame is so massive that this "mere appendage or should that be celebrity?" is grotesque in his enormity. He dances, he seduces, he prays, he screams, he commands and he is loved. Ludicrous! Brilliant!

This is all splendidly brought to life not only by the clever handling and varied voices of their human masters but also by the sublime accompanying music of the Cabinet of Living Cinema. There are sound effects for everything: the tock of a clock ticking and the urgency of the clerk writing are just a couple of the musical brilliances that spring to mind. Dangerously cacophonous at times and so subtle to be a suggestive tease at others, the three musicians, together with the visual mastery of the Carnival of Objects, brought The Nose close to sensory overload. In a very good way.

This certainly is outrageous nonsense. A must see!'
Becky Condron – Theatre Orchard
''The Nose' is full of energy and exuberance, with a huge array of well-crafted puppets'
Animations Online